Southern Arts Society's Pottery Studio had a fire on the evening of November 1, 2021.
Pottery Studio (next to the cabooses) had no one in the building at the time; The instructor had had canceled class for that time.
The fire department extinguished the fire which was was mainly at the far door to the building and the middle front of the building. The pottery equipment was not burned, so it looks salvageable. The other contents of the studio have sustained water and smoke damage.
Our pottery instructors will determine what to toss and what to salvage. SASi will probably need somewhere to store, clean, and check over the equipment.. We will be to working with the city to see what to do about the building. The structure is OK – it will just a lot of work to repair the interior.
Unfortunately, we'll have no clay classes for the near future. The good news is anything damaged can be replaced.
Please check SASi's website for future updates.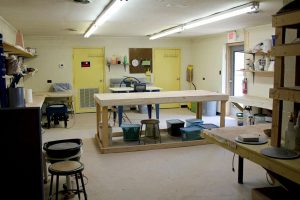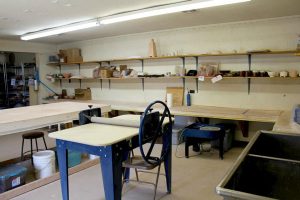 Shown Above: Pottery Studio before the fire
Fire at Southern Art Society's Pottery Studio