SASi's 2020 Working Aminals Calendars are available NOW
Calendars $25 • Frames $30 (black, gold or silver)
The 2020 edition, themed Working Animals, consists of 12 original pieces of hand pulled silk-screened art. Each month is designed by a different artist, giving you twelve individual original art prints. Featured in the art are therapy horses, working dogs, an elephant, a camel, mice, a mule, a goat, a llama, oxen, and a chicken and cow. In choosing Working Animals for the calendar theme, artists wanted to express how important animals have been over history, from past to present to assist us in our everyday lives.
Our Calendars are shipped all across the US. Please call to have one shipped to you or a friend. They make a wonderful gift. Frames need only be purchased once.
---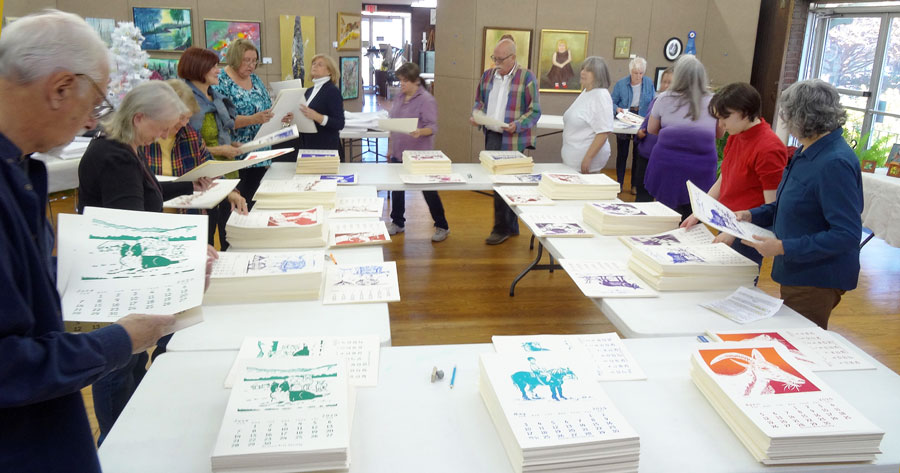 Calendar History
Needing a fundraiser for the Southern Arts Society, our late founder A.B. Snow turned to her longtime friend Mary Goslen of Winston Salem for help.  Mary did her own silk-screening calendar and A.B. thought we could do that as well.  For over 30 years, SASI (Southern Arts Society) has been designing and silk screening by hand this Limited Edition Calendar to sell.
Each year we select a theme for the calendars.  Some past themes have been favorite books, children\'s stories, flowers, ocean, mountains, trees, famous cities, to name a few.
There are many different ways to produce a serigraph or silk screen.  This one process we have used.  The designs are cut or torn out of craft paper and transferred by photo emulsion to a silk screen.  Varying colors of ink are put on the side of the screen and blended with a large squeegee.  Then we pull the squeegee across the screen pushing the ink through the screen and onto the paper.  It may take up to four hours to print one page.  They are each a unique and original work of art.
The calendars are hand printed in a limited edition of 600.  Each page is signed by the artist.  Calendars are automatically reserved for you each year by number.
Please visit SASi to see the beautifully designed calendars we do each year. Calendars from past years are available upon request. Each image may be framed individually for display.
All images are copyrighted and may not be reproduced without the express permission of Southern Arts Society. Our Story
Southern Arts Society, Inc. (SASI) is a non-profit organization founded in 1984 to promote the arts by training the artist and educating the public to the many talents available in the community.  We provide a variety of workshops and classes in fine arts and pottery.
The sale of our hand printed silk screened calendars provides funds for college scholarships in the visual arts field to local students and supports our programs and visual art displays in the community.