2024 SASi Calendars
On Sale Now!
Come in person during gallery hours or call SASi to have your calendar shipped directly to you!
2024 Calendars $30 • Frames $35 (black, gold or silver)
SASi's Limited Edition silk screened 2023 Calendars are themed Vintage Toys
---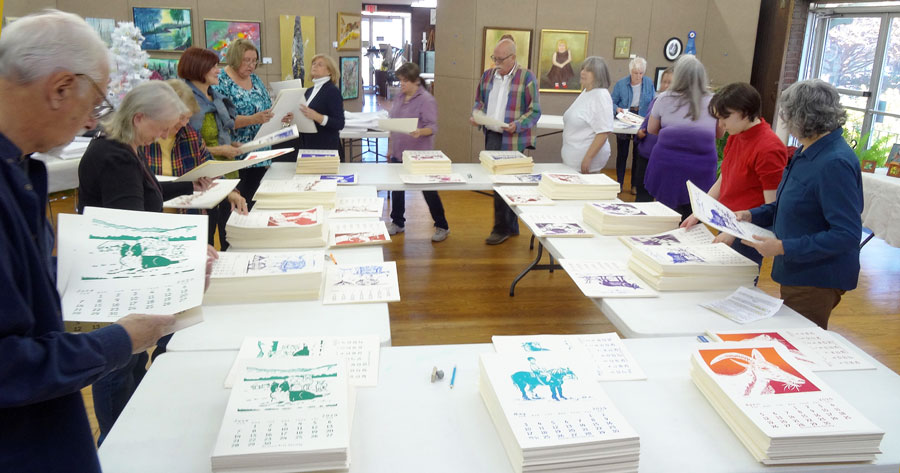 Shown above: artists collating calendars in a previous year (pre-COVID)
Calendar History
The late A.B. Mauney Snow and a dozen friends founded Southern Arts Society in 1984 to promote the talents of local artists around Kings Mountain. Soon after the group formed, the idea began of producing an art calendar by hand to earn money for the group. The 2021 edition marks 36 years of producing the limited edition calendars. The Calendars are reserved from year to year by loyal collectors with many being shipped all around the country, leaving only a small number open to sell to the general public. Be sure to get yours early before they sell out. The twelve month calendar set sells for $25, and a frame (in black, gold or silver) to hold the calendar may be purchased for $30. Many who purchase the calendar refuse to look at them ahead of time, wanting to be surprised as each month comes along to turn the page and see a new work of art.
Each year we select a theme for the calendars. Some past themes have been favorite books, children\'s stories, flowers, ocean, mountains, trees, famous cities, to name a few.
There are many different ways to produce a serigraph or silk screen. This one process we have used. The designs are cut or torn out of craft paper and transferred by photo emulsion to a silk screen. Varying colors of ink are put on the side of the screen and blended with a large squeegee. Then we pull the squeegee across the screen pushing the ink through the screen and onto the paper. It may take up to four hours to print one page. They are each a unique and original work of art.
The calendars are hand printed in a limited edition of 600. Each page is signed by the artist. Calendars are automatically reserved for you each year by number.
Please visit SASi to see the beautifully designed calendars we do each year. Calendars from past years are available upon request. Each image may be framed individually for display.
All images are copyrighted and may not be reproduced without the express permission of Southern Arts Society.
Our Story
Southern Arts Society, Inc. (SASI) is a non-profit organization founded in 1984 to promote the arts by training the artist and educating the public to the many talents available in the community. We provide a variety of workshops and classes in fine arts and pottery.
The sale of our hand printed silk screened calendars provides funds for college scholarships in the visual arts field to local students and supports our programs and visual art displays in the community.