The Mountain Calls: Echoes of Appalachia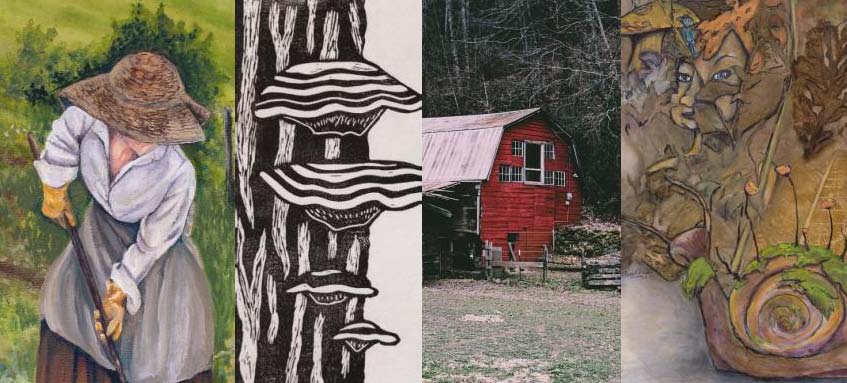 Public Reception
Saturday April 24th from 6-8 pm
Live music with Steve and Jean Wilder Smith on hammered dulcimer
The Mountain Calls: Echoes of Appalachia
Exhibit on view April 21 – June 4, 2021
Artists: Stacey Pilkington Smith, Jenna Webb, Robert Webb, Crystal Whitesides
Through this body of work, the artists strive to capture the life, magic, and forgotten ways of the Southern Appalachian people through various art mediums. Stacey Pilkington-Smith's mastery of mixed media beautifully explores folk magic and myths. Robert Webb uses his skill of the lens to capture photographic works artfully. In comparison, Jenna Webb creates her imagery with lino-printing and green crafting following the same theme. Crystal Whiteside translates her visions into eco prints and mixed media works of art. The artist's results immerse viewers in an echo of life in the mountain hollers, root them to our now, and give slight glimpses into our future.
On view at
Southern Arts Society
301 N. Piedmont Ave.
Kings Mountain NC 28086
Gallery Hours: Tues-Sat 10 am to 2 pm
And by appointment 704-739-5585
Open all day April 24th from 10-8.
All visitors – please wear a mask.