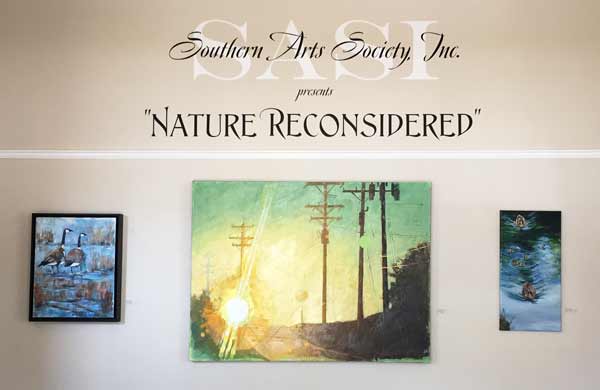 Nature Reconsidered and Trail 2020
Nature Reconsidered art competition and Trail photography competition opened this week at Southern Arts Society in Kings Mountain. Both are judged shows with cash prizes.
Nature Reconsidered is an art exhibition and competition sponsored by Southern Arts Society that aims to explore the ever-changing relationship between humans and nature. Artists were asked to create work that references, investigates, challenges, and/or celebrates our relationship with the natural world. There is a wide variety of media featured in the show – painting (oil, watercolor, acrylic, pastel), drawing, glass, photography and mixed media. Twenty-five artists from around the region entered 57 pieces of work for this years exhibit. Entries are down for this show, primarily due to the Covid-19 pandemic, but the quality of the work is still impressive to see.
The Trail photography competition is sponsored by the Kings Mountain Gateway Trail and Southern Arts Society. This exhibit features photos taken on the Gateway Trail over the past two years. Photographers walked the trail in all types of weather to seek out flora and fauna to photograph for a chance to win a cash award. There are 27 entries from 11 photographers in this show. The butterfly garden at the top of the Gateway Trail is a prime spot for great photos and is well represented in this show. Much of the trail is surrounded by trees which requires photographers to be patient and search out interesting wildlife to capture on film.
Our Judge
Judging both shows is Myles Calvert, Assistant Professor in Fine Arts at Winthrop University, South Carolina. Mr. Calvert was born in Collingwood, Ontario. He attended the University of Guelph with a focus in printmaking, before travelling to London, UK where he completed his MA in Printmaking, at Camberwell College of Art (University for the Arts, London). Major bodies of work included installations of screen printed toast and the idolization of popular British celebrity culture. During this time, he worked for the National Portrait Gallery before moving to Hastings in East Sussex, to teach printmaking at Sussex Coast College and become Duty Manager of the newly built Jerwood Gallery (Hastings Contemporary). Myles' toast-based work continued with a 43000 slice installation during the Queen's 'Diamond Jubilee' with college students, drawing BBC media attention, and culminated in two solo exhibitions before making a return to the University of Guelph to teach. 2019 residencies included Art Print Residence (Barcelona, Spain) and Proyecto'ace (Buenos Aires, Argentina), as well as a lecture/workshop at PUCP (Pontificia Universidad Catòlica del Perú) in Lima.
Nature Reconsidered and Trail will be on display in the galleries of Southern Arts Society through November 6, 2020. Visitors are asked to please wear a mask and practice social distancing while visiting the gallery.
---
Winners for Nature Reconsidered Art Competition 2020
Juror's comments included
First Place
Wil Bosbyshell, Tree Series Drawing no. 4, graphite drawing
Considerations such as warm paper hue, make this graphite drawing / textured rubbing, a stand out work. Gestural marks, which are seemingly spontaneous are, in fact, carefully considered and logically placed. Areas of intense detail allow for a restful area of photographic calm, before moving to texture-heavy offerings of what a tree should feel like. The drawing allows for artistic freedom but does not fall short of pairing a refreshing use of positive / negative space and stimulating the mind to what branches may even smell like. A familiar image ratio combined with unusual cropping, dictates a contemporary expression of a truly explored and historical subject.
---
Second Place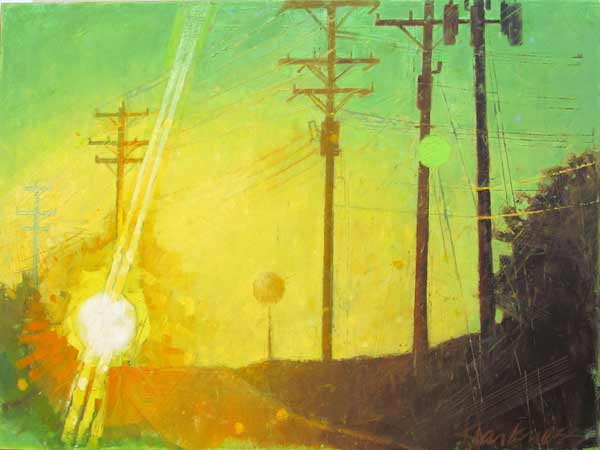 Anne Harkness, Colliding Powers, oil painting
A scene constantly experienced yet difficult to replicate. The glare of the sun, reflecting off of structures, radiating surfaces, and moving objects. A clear feeling of heat, effectively used with cool hues. The entire composition aims to distract, by the decisive and broad brush strokes to the electrical wires which appear angry with fire. Interaction between nature and human development is felt as a powerful and ever-changing force.
---
Third Place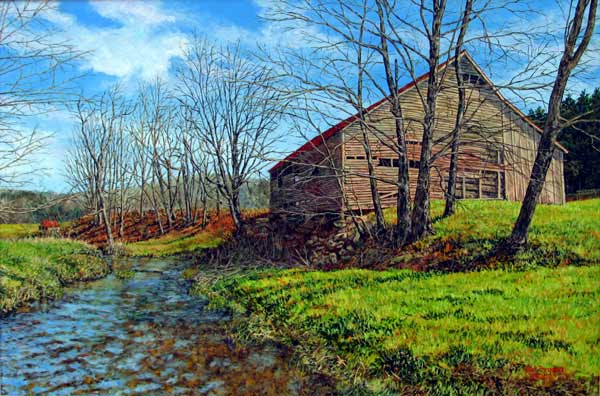 Hal Bryant, Small Stream Flowing Through Valle Crucis, acrylic painting
A traditional pastoral pairing of nature and the human-made structure, hinting towards the cycle of life. Successfully, the composition comes in strong with a central horizontal division which is supported by an equally strong diagonal, allowing the eye to feel central. Cool, translucent river chills are played against the warmth of the barn roof but the unexpected lies closer, and beneath. Hints of fluorescent orange and hot pink employ an exciting, yet distraction free, treat for the observant eye. Colors within nature are considered and challenged.
---
Merit Award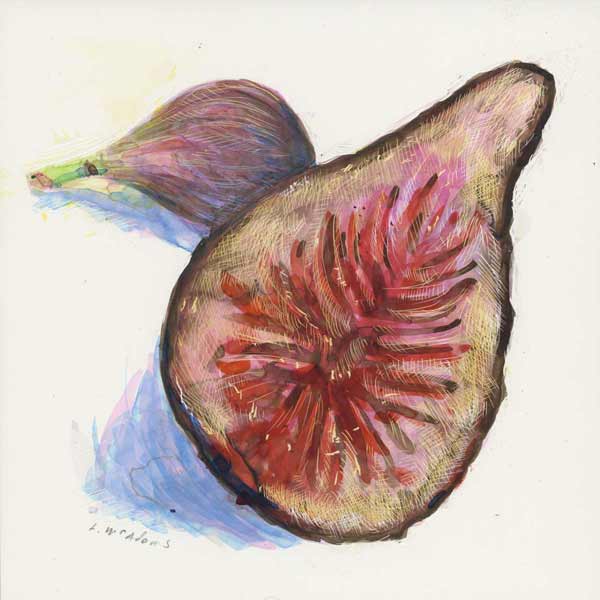 Lori McAdams, Home Grown Figs, scratchboard, colored inks
Figs with more layers than an onion, can't be ignored. The controlled layering in the back fig, in particular, is captivating and worthy of a long look. Countless colors paired with illustrative and smart gestural marks via crosshatching and directional line, cause a quirky pairing of the two mediums.
---
Merit Award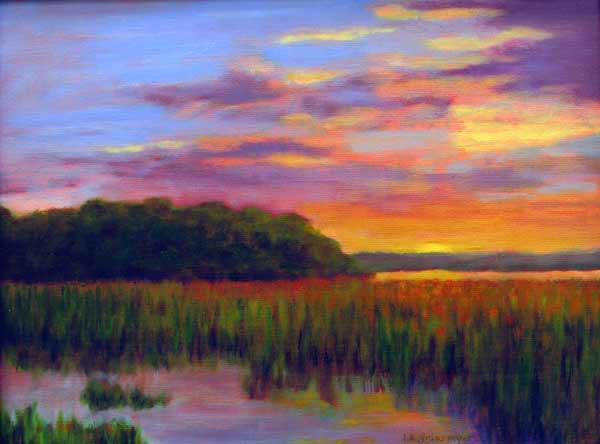 Isabelle Griesmyer, Sunset, oil painting
An understated success. For a traditionally composed landscape, the serene, soft, and calm sense of relaxation is a paradox given the unexpected palette, usually used for bursts of energy and attention. The image is in full balanced use of a challenging polychromatic color harmony.
---
Merit Award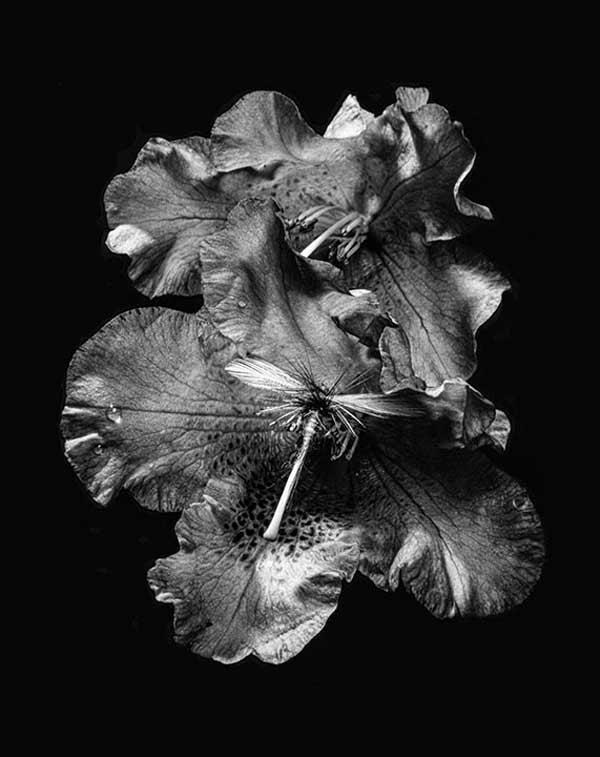 Lynne Parker, Real Flower, Reel Fly, photography
Layers may be a vital component when examining nature. This photograph captures fragility of flowers, but also alludes to the thinness of skin, laugh lines, passage of time, and conjures up images that simply are not there. The division of space allows for tunnel vision, and the only indicator of true flora and fauna is the dragonfly – a secondary, hinting indicator of scale and material.
---
Winners for Trail Photography Competition 2020
First Place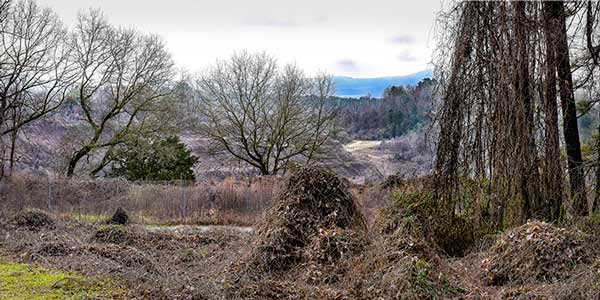 Lynne Parker, January 25
Color theory and Romanticism are strongly utilized in this cinematic composition. If colors evoke the return of memories and spur on emotions, this photograph has captured a calming and majestic moment just short of a nostalgic 80s fantasy film. Saturated with purples and paired with a vivid blue, the visible clarity pulls you deep into the scene. Painters may pull clear connections to Constable's The Hay Wain, referring to the masses of vines, shrubbery, and matted clumps of colourful foliage as the typical words come to mind of romantic, picturesque, rolling, etc – but the framed proportions and hyper awareness of color touch on the realm of pure fantasy.
---
Second Place
Lynne Parker, Past Prime
There is never simplicity in a black and white image. This photograph is saturated with suggestions of color. The highly contrasted exposure allows for the natural response of the eye to suggest clumped sections of gray that simply don't exist, much like a digital halftone. With time, the image divides into patches and the subtle shifts in focus emerge. The oily blacks are strengthened further by an often awkward central composition, which only reinforces the outward explosion and full saturation of visual space.
---
Third Place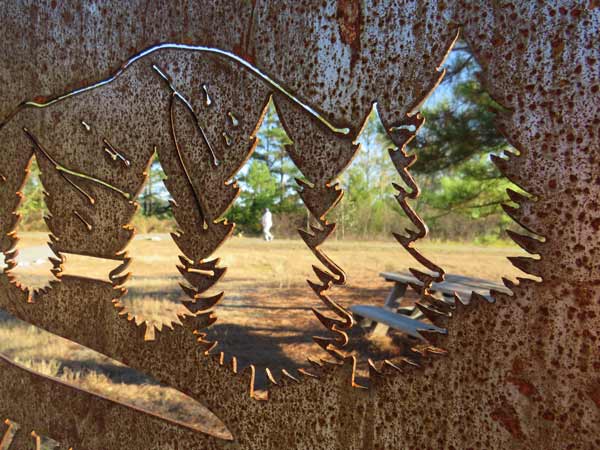 Kathy Livermore, Double Image
A quirky confusion of visual planes, both here and there. The image plays with (unintentionally or not) scale, a suggestion of dangling car fresheners or even reflective surfaces, from a distance. There is push and pull. The cutout silhouettes of tree forms from the trail signage is also a nod towards digital imagery stencil and editing techniques.