Winners Announced for Nature Reconsidered and Trail
On view October 2 – November 8, 2019
Artwork reflecting the natural world is on exhibit at Southern Arts Society in Kings Mountain. Nature Reconsidered and Trail are two competitions on view through November 8th in the galleries at Southern Arts Society. Judging both competitions was Lila Shull, a printmaker and Lecturer of Studio Art at Appalachian State University in Boone, North Carolina. Winners were announced Saturday evening, October 12 during the public reception. Attendees enjoyed live music provided by members of the Carolina's Flute Circle. Read more
About the combined shows
For Nature Reconsidered, artists were asked to create work that references, investigates, challenges, and/or celebrates our relationship with the natural world. Seventy-Six works of art were entered in the show including paintings in all media – oil, acrylic, pastel, colored pencil, mixed media, photography, print making and gourds. Entries were judged with cash prizes awarded.
The "Trail" photography competition invited people to take photos on the Kings Mountain Gateway Trail. There were 21 photos submitted.
About the Judge
Lila Shull is a studio artist living and working in the Blue Ridge Mountains of Western North Carolina. An enthusiastic printmaker, her work engages traditional practices with installation and material play including ceramics, fabric, handmade paper and wood. Lila has exhibited nationally at such galleries as the Foley and Unix Gallery in New York City, the International Print Center in New York City, Coagula Curatorial in Los Angeles, CA, Mint Museum in Charlotte, NC, and Columbia Museum of Art in Columbia, SC. She has also shown internationally at the Museum of Arts in Łódź, Poland and the Concrete Gallery in Wroclaw, Poland. Lila recently earned a Master of Fine Arts from the University of Tennessee and she is currently a Lecturer of Studio Art at Appalachian State University in Boone, North Carolina.
The judge offered these comments on the show overall:
"Reflecting on the title in relationship to the wonderful work in the show, I was most affected by the artworks that felt like a gesture of fellowship with the viewer. The pieces I continued to revisit were inviting because they required my active participation and reflection of the theme. Nature Reconsidered challenges us to slow down and to enjoy unexpected delights in small, but significant moments. These incidental discoveries offer rewards of surprise, curiosity, sentimental impressions, and the promise of a new day."
---
Winners for Nature Reconsidered

First Place $200 – Up Close by Lori McAdams – scratchboard
(Photo credit: Ellen Devenny)
"The quaint size of this work is a playful trick because I was delighted with the detail, skill and intention of the artist. This scratchboard piece left a satisfying impression. I wish I could reach out and touch that caterpillar, the one I recognize from the backyard of my childhood home. Lori captured the fragileness of the fine hair, and preciousness of a living form. As I was admiring the intentionality of the strokes and finesse of body, I was charmed by being duped to admire an insect that is historically an agricultural pest, capable of causing enormous damage to farmland and crops. While also a serious nuisance, caterpillars have been used for silk, food and biological control of invasive plants. This small piece really had me reconsidering nature, indeed."
Second Place $150 – Autumn Leaves by Helen Lee – gourd
"I felt teased by this work and kept catching myself from touching it. I loved that Helen spent the time and care on subverting an object and transforming it so completely. I continued to revisit this work and look inside for evidence on how it was made and put together. It is very playful but not unserious. The colors of Fall, and the shell being a gourd feel cohesive and satisfying. There is a nice reference to puzzle building, pattern and resourcefulness. This work inspired me with the creative use of material and left me with a wonderful feeling of excitement to enjoy the seasonal changes that are upon us."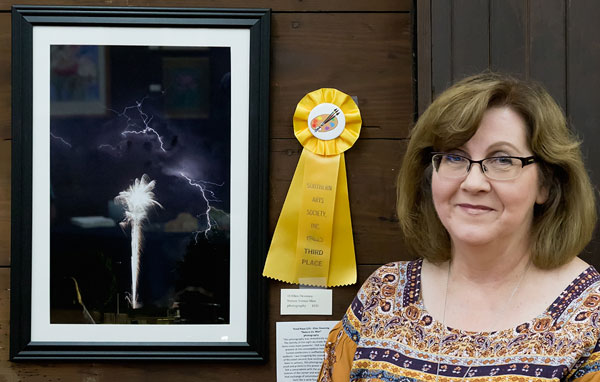 Third Place $75 – Nature vs. Man by Ellen Devenny – photography
"This photography was immediately eye catching. The density of the night sky made the explosive forms even more powerful. I felt lucky to have Ellen present at this serendipitous moment, where human combustion is outflanked by nature's outburst. I was imagining the sound and electricity of this exact second, how exciting that must have been to witness. This photograph made me feel small and prideful in the power of human nature. I felt a camaraderie with the young figure in the bottom of the corner and wished we could share that exchange of astonished glances. This image feels like a wink from the cosmos."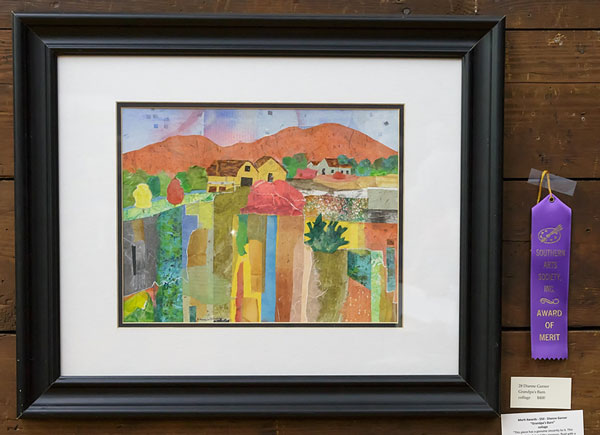 Merit Award $50 – Grandpa's Barn by Dianne Garner – collage
(Photo credit: Ellen Devenny)
"This piece has a genuine sincerity to it. This collage feels joyful and like memory, fluid with a specificity. There is a real sense of comport, playfulness and love."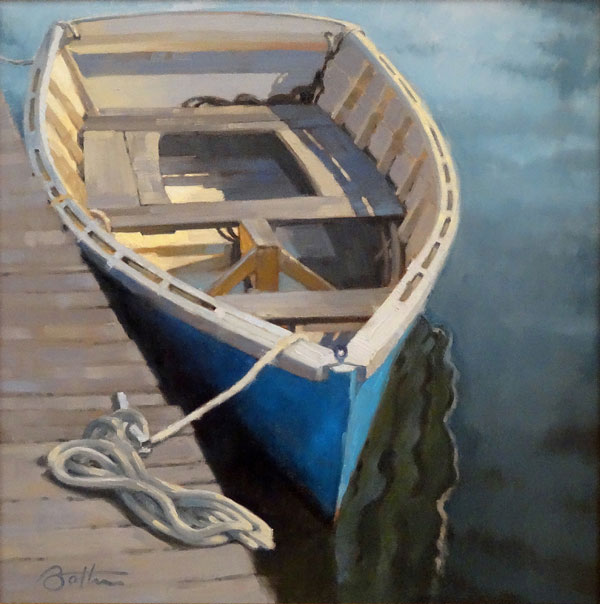 Merit Award $50 – Blue Rowboat by Todd Baxter – oil
"This is a wonderful painting where I can feel that boat gently knock the deck and see the reflection ripple. I feel like I am invited to step into that boat with someone I trust, and for short time, go out and enjoy the sincerity of conversation and closeness of friendship."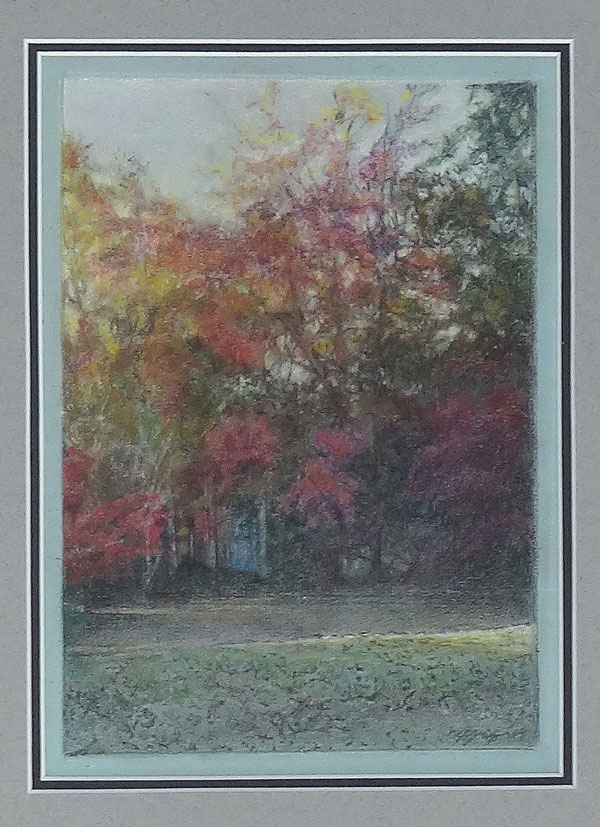 Merit Award $50 – Sunset by Lu Reeves – colored pencil
"This drawing is lovely, and I feel like I am holding the sunset in my hands. I was lost in the subtlety of color and softness of the whole image.  It reminds me of the evenings when the sky is just right and those long shadows make the horizon seem endless."
---
Winners for Trail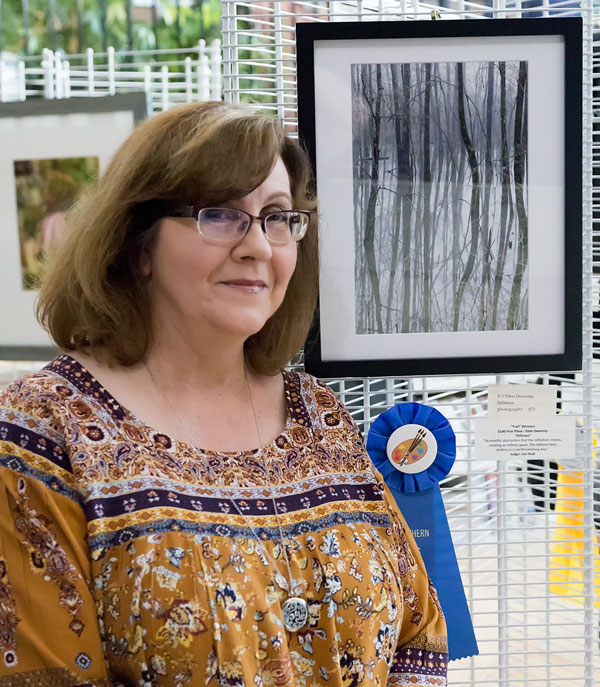 First Place $100 – Stillness by Ellen Devenny
(Photo credit: Ellen Devenny)
"Wonderful abstraction that the reflection creates, creating an infinity space. The stillness feels endless in a nonthreatening way."
Second Place $75 – Trail Pollinator by Shirley Brutko
(Photo credit: Ellen Devenny)
"I love the celebration of our most important pollinators! That flower is stunning and having that bee out of focus because it's flying around helps me fell good that it is doing its job well."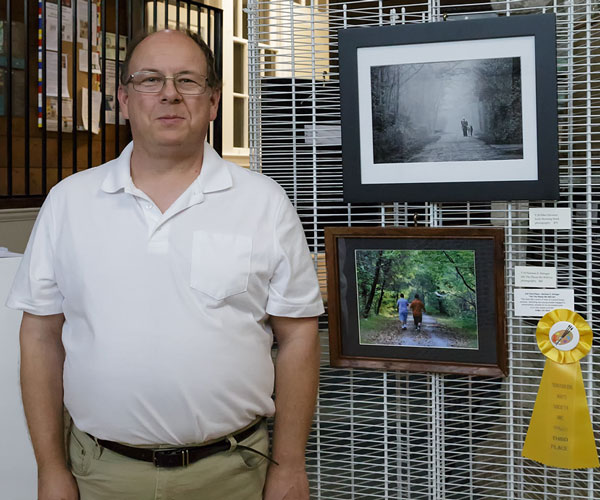 Third Place $50 – Oh! The Places We Will Go by Norman E. Stringer
(Photo credit: Ellen Devenny)
"This feels like a point of view of a proud family member. Watching two young people engaged in conversation, outside on an uncrowded path. It is a very sweet portrait."
---
Nature Reconsidered and Trail will be on exhibit in the galleries at Southern Arts Society through November 8th