A Fresh Look 2021 Winners and Judge's Comments
The exhibit is on view June 9 – July 30, 2021
About the Judge
Judging this year's show is Andrew Leventis. Mr. Leventis creates intricately detailed oil paintings of contemporary vanitas. He has recently depicted his stocked refrigerator and icebox throughout the global pandemic. Andrew earned a BFA from the American Academy of Art in Chicago and an MFA from Goldsmiths College, University of London. Venues exhibiting his work include York Art Gallery, UK; the Venice Arsenale, Italy; the Czong Institute for Contemporary Art, Korea; and Manifest Creative Research Gallery, Ohio. His work has been featured in art periodicals such as Aesthetica Magazine and New American Paintings. Andrew is an Assistant Professor of Painting at the University of North Carolina at Charlotte. Examples of his work can be seen at www.andrewleventispainting.com and on Instagram @andrewleventisstudio
Juror's Statement for A Fresh Look at Southern Arts Society in Kings Mountain, NC:

Thank you very much to the Southern Arts Society for inviting me to jury "A Fresh Look." It was a pleasure to experience these works from artists across the region. Congratulations to you all for taking the opportunity to exhibit your work and for sharing your creativity with me.

In judging the show, I looked for unique perspectives, and I was particularly impressed with artists who portrayed adventurous subject matter. I often feel that as artists, we choose subjects we think others will find beautiful, but we forget that it is up to us to point out overlooked elements in the mundane that will resonate with the viewer. I try to remind myself that paint can make the object I choose to depict more interesting than it really is. I sometimes look to Odd Nerdrum's Still Life of a Brick for inspiration, and to remind myself that a simple, inert object can acquire life, depending on how it is portrayed- perhaps with warm, gold light, deep shadow patterns, and rich, thick paint. And such components can deeply resonate with the viewer. The artists I selected for awards presented unpredictable subjects in ways that made me see them as beautiful, or they depicted subjects that were perhaps more familiar, but they made me reexamine them through means of wonderful craftsmanship and skill.

The three merit awards I selected go to Patricia Pietersen for Spooling, Mimi Irwin for L'arch a Aurebeau, and Ron Shepard for Misty Bay.

The first, second, and third-place awards go to artists who presented outstanding artwork on the levels of professional presentation, artistic maturity, and creative ambition.

Thank you again to the Southern Arts Society and to all the artists in the exhibition for sharing your work with me. I highly enjoyed my visit to Kings Mountain and I wish you success in all your future creative endeavors.
---
First Place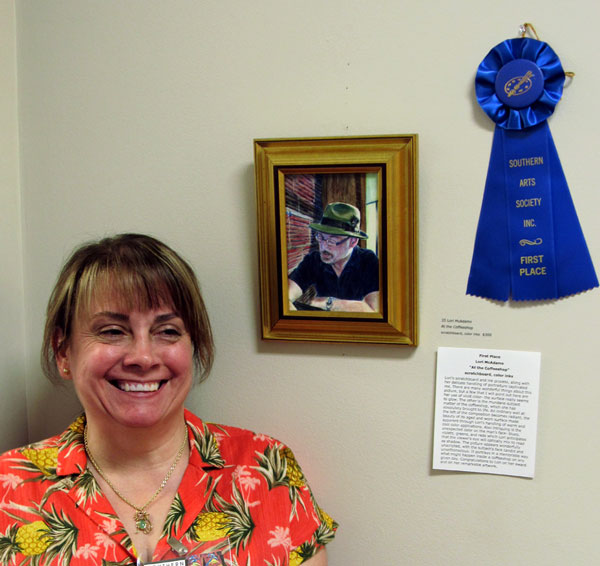 Lori McAdams, At the Coffeeshop, scratchboard and colored inks
Judge's Comments:

First place award goes to Lori McAdams for, At the Coffeeshop. Her scratchboard and ink process, along with her delicate handling of portraiture captivated me. There are many wonderful things about this picture, but a few that I will point out here are her use of vivid color- the surface really seems to glow. The other is the mundane subject matter of the coffeeshop, which she has absolutely brought to life. An ordinary wall at the left of the composition becomes radiant, the beauty of its aged and worn surface made apparent through Lori's handling of warm and cool color applications. Also intriguing is the unexpected color on the man's face- blues, violets, greens, and reds which Lori anticipates that the viewer's eye will optically mix to read as shadow. The picture appears wonderfully unscripted, with the subject's face candid and unselfconscious. It portrays in a memorable way what might happen inside a coffeeshop on any given day. Congratulations to Lori on her award and on her remarkable artwork.
---
Second Place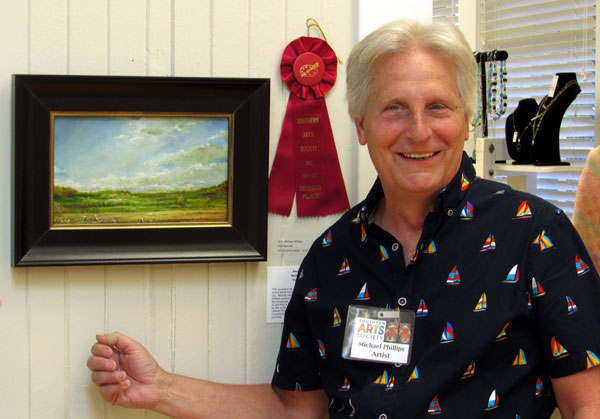 Michael Phillips, Fall Harvest, oil
Judge's Comments:

Second place award goes to Michael Phillips for Fall Harvest. This excellent oil painting impressed me with its subtle tonal variations in its regions of land and sky. Michael deftly handled the shades of phthalo greens and earth tones one sees in a fall landscape. Anyone who has tried their hand at painting a landscape knows how difficult it is to mix green paint convincingly, so that it reflects the greens that occur in nature.  Congratulations to Michael on his excellent painting.
---
Third Place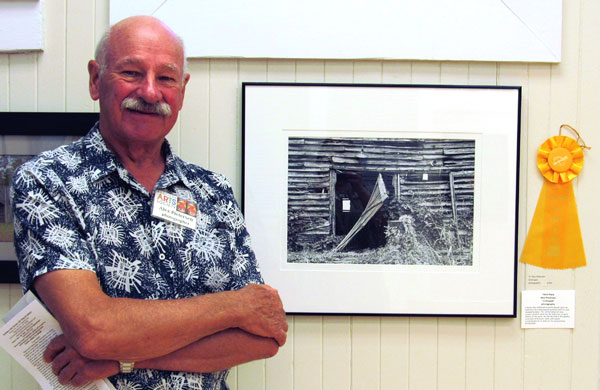 Alex Pietersen, Unhinged, photography
Judge's Comments:

I chose Alex Pietersen's piece, "Unhinged" for 3rd place, based upon its portrayal of a dilapidated building exterior and collapsing door. The combination of new, organic growth covering the old is an evident theme of the work, as well as Alex's thoughtful contrasts of texture, light, and space. Congratulations to Alex on his outstanding photograph.
---
Merit Award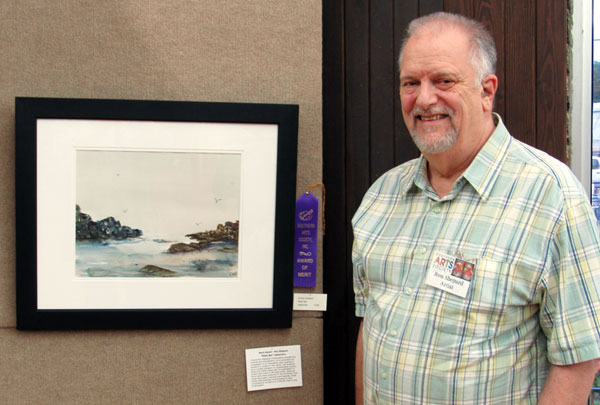 Ron Shepard, Misty Bay, watercolor
Judge's Comments:

I found Ron Shepard's composition wonderfully minimal and atmospheric, as he activated his composition in an interesting way, keeping it devoid of a subject in the center. His shadows have a lovely variation of unpredictable greens, blues and violets along with his application of muted color tones in the light areas. Although there were many artworks in this exhibition that could have easily received merit awards, these artists demonstrated inventiveness in their compositions, as well as a creativity that is free of derivation.
---
Merit Award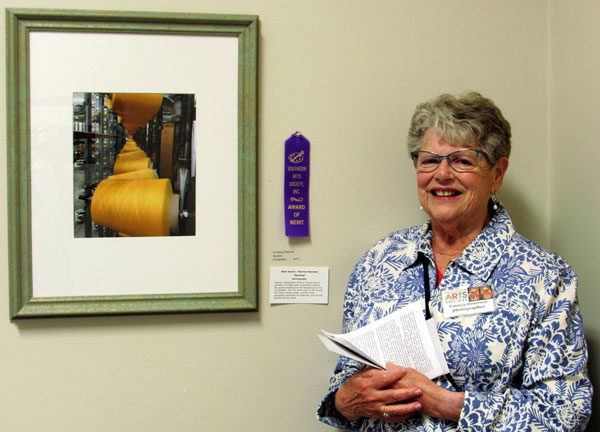 Patricia Pietersen, Spooling, photography
Judge's Comments:

Patricia's photograph offers a unique look at cylinders of thread upon a spooling machine, the spools receding into the background of her composition. The rich ochre color of the thread, her clever camera angle, and the linear perspective attracted my attention, and led me directly into the piece.
---
Merit Award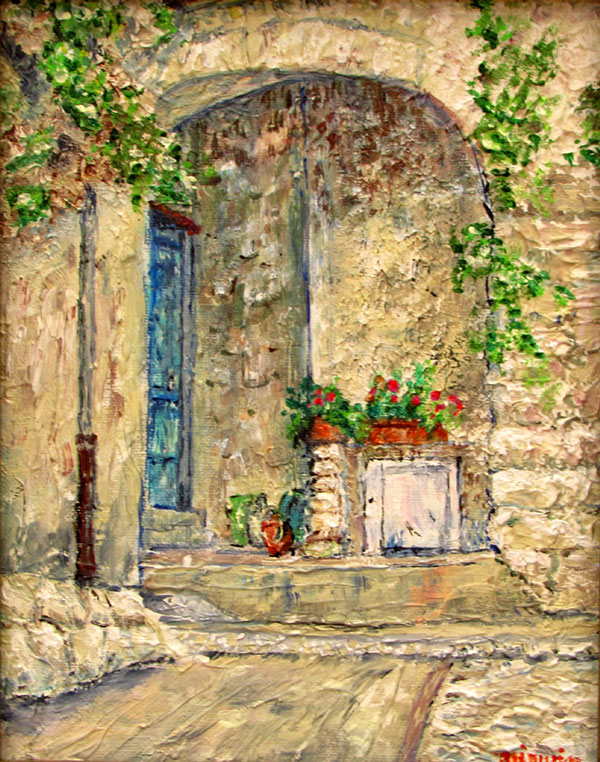 Mimi Irwin (not pictured), L'arch a Aurebeau, acrylic
Judge's Comments:

Mimi Irwin's painting played with surface and texture, reminding me that painting does not need to exist on an entirely flat surface; rather, it can be sculptural. The build-up of marks and textures, along with variation of color temperatures reminded me of post-impressionist painting, and made her piece lively and interesting.
---
A Fresh Look 2021 art exhibit and competition
On view June 9th through July 30, 2021
Southern Arts Society – Gift Shop & Gallery, Kings Mountain, NC