A Fresh Look Art Competition and Exhibit
On View July 18 – August 23, 2019
Southern Arts Society announced winners for A Fresh Look art competition at a public reception on Saturday night, July 20th.  Artists from around the region brought their best work to compete for prizes filling the galleries at Southern Arts Society with artwork. The one hundred fifty-six works of art entered include paintings in all media – oil, acrylic, pastel, along with colored pencil, mixed media, photography, fiber, ceramics and digital. This is the most work ever submitted for an exhibit at SASi. There was no theme for this show, so artwork represents a wide variety of subject matter, from landscapes and pet portraits to abstracts. Artists were asked to show their most recent works taking a fresh look at the world around them; to try a new style; or a new medium; drawing ideas from their imagination, real life or events.
Judging the show was Carmella Jarvi of Charlotte, NC. Jarvi is a full time artist and entrepreneur, McColl Center for Art + Innovation, Vermont Studio Center, and Hambidge Center for the Creative Arts & Sciences alumna, and three-time Regional Artist Project Grant recipient. Her art has evolved from women in water paintings to abstract explorations of water through kiln glass — since a 2011 trip to Playa del Carmen, Mexico. She has returned to painting abstract water since spending summer 2018 at Hambidge Center AiR and, during her recent 2019 Atrium Health Artist-in-Residency at McColl Center.
Jarvi had the difficult task of selecting winners from this year's competition. She selected first, second and third place prizes along with three merit awards.
Below are the winners with Jarvi's comments.
---
First Place
Sara Dame Setzer – monoprint – Horse of Red Clover Hill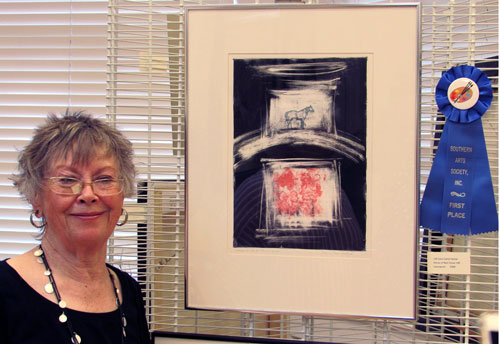 "There is something very enticing (& visceral) about this piece. Bold composition coupled with subtle details holds the gaze."
---
Second Place
Lori McAdams – scratchboard – Lower Manhattan Street Scene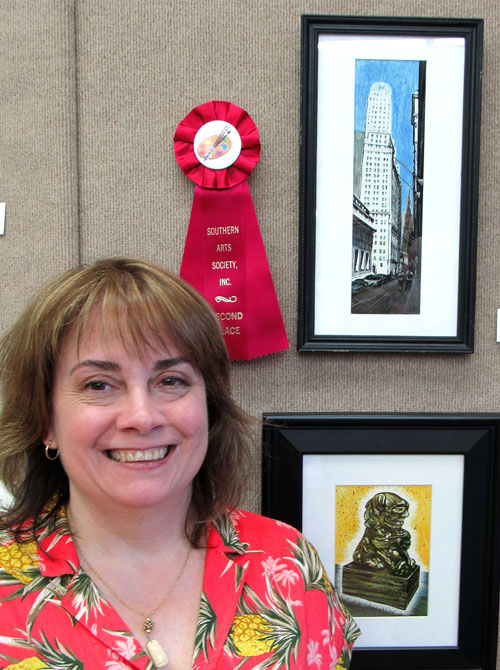 "Small piece, but the closer I get, the more I see. Love the color of windows & suggestion of figures."
---
Third Place
Ellen Devenny – photograph – Tine Tuned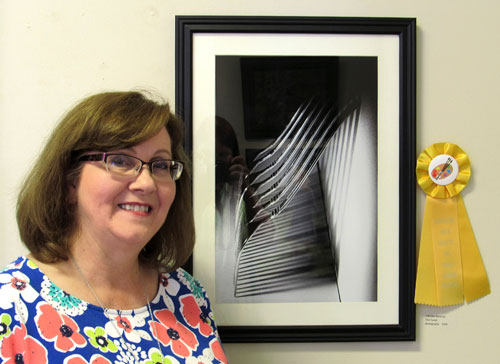 "This strong composition intrigues me. It's almost musical in balance of simplicity & complexity."
---
Merit Award
Shelby Sabelli – Quiet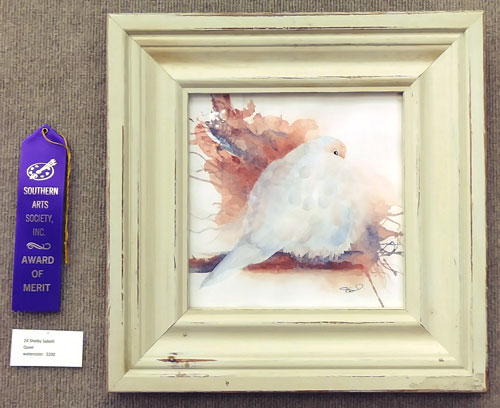 "Although this is a softly painted (subtle) piece, it's a gorgeous painting. The eye peeking works! (Also an example of framing which seems to complement the piece.)"
---
Merit Award
Brenda Beard Bostian – her oil painting – Back to Shore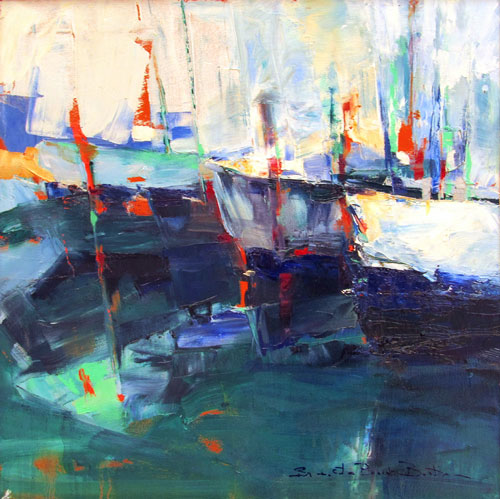 "Beautiful painting. The abstract approach pulls me in. But, details like bottom left green triangle with orange holds me there."
---
Merit Award
Debbie Whitsett – ceramic scuplture – Terra Madre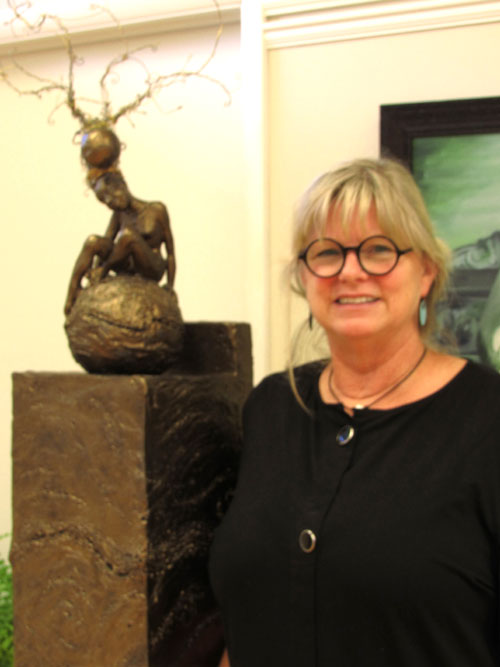 "Love the figure on top. Excellent example of understanding the body & enhancing with fun headdress."