Intro to Rigid Heddle Weaving with Sue Helmken
Date: Saturday, March 6, 2021
Time: 10 am – 1 pm
Cost: $45 for SASi Members; $50 for Non-Members
Materials: All materials are included.
Level: Open to all levels
Class info sheet: Download PDF of class information here
The simple design of rigid heddle looms make them the perfect weaving loom for anyone wishing to learn the craft.  The most common types of projects are scarves, placemats, dishtowels, or shawls. You can also weave fabric and then sew it with other fabrics to create garments or bags.
For this class, the looms will already be set up. Sue will demonstrate how to set up the loom, then you will dive right into weaving.  Sue will cover color blending, creating texture, lace techniques, pick-up, knotting/shag and more.  A wide variety of yarns will be available for you to sample and explore.  You'll leave with a colorful sampler and a greater understanding of the weaving process.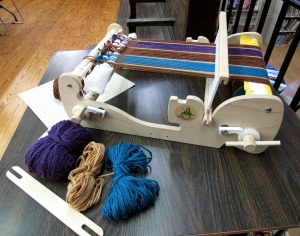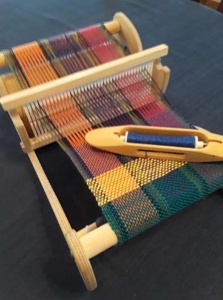 ---
Inkle Loom Weaving with Sue Helmken
Date: Saturday, March 13, 2021
Time: 10 am-1 pm
Cost: $45 for SASi Members; $50 for Non-Members
Materials: All materials are included.
Level: Open to all levels
Class info sheet: Download PDF of class information here
Inkle looms, also known as belt looms, are characterized by a wooden framework upon which dowels have been fastened. They are used to make narrow strips of cloth that can be used for belts, straps, edgings and even fringe!  The basics can be learned in one easy lesson, which makes this a great starting point for anyone interested in weaving.  In this class, you will make a sample at least a yard long showing how different sizes and types of yarn affect the pattern and then try variations on the basic weaving. You'll be amazed at the variety of patterns you can create.